Staff Pick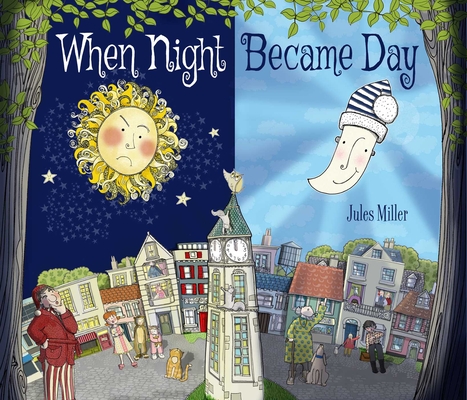 When Night Became Day
Publication Date:
February 10th, 2015
Staff Reviews
— Brenda McConnell, Kona Stories - Kailua Kona HI
Description
The moon is bored with his humdrum nightly duties. He is always around the same old stars in the same old boring sky. Where's the fun in that? The sun could use a change of scenery, too, and so the moon comes up with a brilliant solution—they will swap jobs! When the moon goes to work during the day, he does his best to shine, but he just isn't as bright as the sun. It's too chilly for people to enjoy the beach, and everything is in chaos. The sun doesn't have it any better that night. His rays make it too hot to sleep, which makes people pretty angry. Maybe this trade isn't such a bright idea after all.
From author/illustrator Jules Miller comes When Night Became Day—a pleasant reminder that we are all born with unique and special abilities. Children and parents alike will enjoy pointing out all the imaginative details in Miller's modern yet folksy illustrations. Day or night, this is a wonderful book to read aloud.
Sky Pony Press, with our Good Books, Racehorse and Arcade imprints, is proud to publish a broad range of books for young readers—picture books for small children, chapter books, books for middle grade readers, and novels for young adults. Our list includes bestsellers for children who love to play Minecraft; stories told with LEGO bricks; books that teach lessons about tolerance, patience, and the environment, and much more. While not every title we publish becomes a New York Times bestseller or a national bestseller, we are committed to books on subjects that are sometimes overlooked and to authors whose work might not otherwise find a home.
About the Author
Jules Miller is an illustrator, author, and graphic designer. She has worked extensively in advertising and recently began to write and illustrate children's books. Her first picture book, Ellie and the Truth about the Tooth Fairy, will be published by Sky Pony Press in April 2014. She lives with her husband, two children, two dogs, and a cat in Brighton, England.