Staff Pick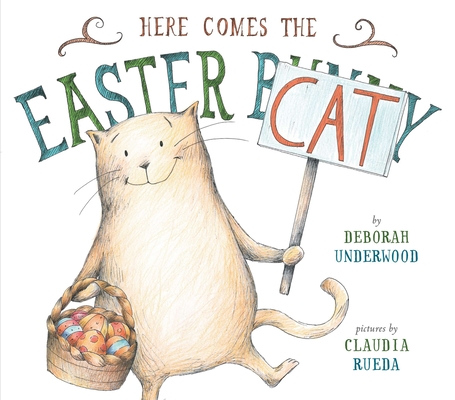 Here Comes the Easter Cat
Publication Date:
January 28th, 2014
Usually Ships in 1 to 5 Days
Staff Reviews
Fun Easter book with a new twist.  Read at Storytime by Auntie Lisa Chu.  Listen Here
— Brenda McConnell, Kona Stories Hawaii
Description
This New York Times bestseller brings a cat with flair to spare, an Easter Bunny with a job to do, and a hilarious break from sticky-sweet Easter fare—for fans of Patrick McDonnell,  Mo Willems's Elephant and Piggie, and Ben Clanton's Narwhal and Jelly.
Why should the Easter Bunny get all the love? That's what Cat would like to know. So he decides to take over: He dons his sparkly suit, jumps on his Harley, and roars off into the night. But it turns out delivering Easter eggs is hard work. And it doesn't leave much time for naps (of which Cat has taken five--no, seven). So when a pooped-out Easter Bunny shows up, and with a treat for Cat, what will Cat do? His surprise solution will be stylish, smart, and even—yes—kind.
An homage to classic comic strips from the author of The Quiet Book and The Loud Book, this Easter treat has a bit of bite, a sweet center, and a satisfying finish—sure to inspire second helpings.
Great as an Easter basket stuffer—read it at Eastertime and year-round!
"Clever . . . light-as-air." —The New York Times
★ "Brilliant . . . truly winning . . . wonderful." —SLJ, starred review
★ "Utterly endearing." —Kirkus, starred review
★ "Marvelous." —Publishers Weekly, starred review
★ "Cheekily amusing." —BCCB starred review  
"Witty . . . entertaining." —The Horn Book
"Hilarious." —Booklist
Praise for Here Comes the Easter Cat
A New York Times bestseller
A Kirkus Best Book of the Year
"Underwood uses a clever narrative technique to tell her light-as-air story." —The New York Times
★ "Will be enjoyed in storytimes as well as one-on-one. The combination of witty text, plentiful white space, and brilliant images make this a truly winning book . . . Wonderful." —School Library Journal, starred review
★ "Utterly endearing." —Kirkus Reviews, starred review
★ "Underwood and Rueda deliver an Easter book with real personality in this story of a cat who's got his eye on the Easter Bunny's job . . . Marvelous . . . A highly appealing blend of slightly edgy humor and underlying sweetness." —Publishers Weekly, starred review
★ "Cat's signs and facial expressions are cheekily amusing, sometimes contradicting the narrator . . . Add it to an Easter or cat storytime lineup, or tuck it into a cat-lover's Easter basket." —BCCB starred review  
"Witty . . . entertaining." —The Horn Book
"Hilarious." —Booklist