Staff Pick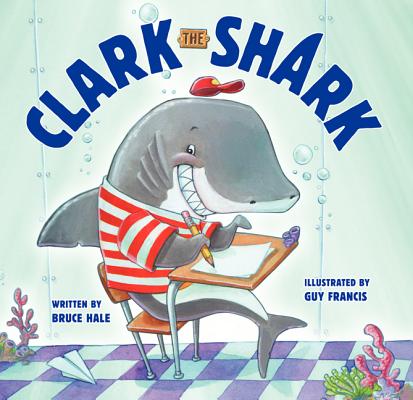 Clark the Shark
Publication Date:
June 25th, 2013
Usually Ships in 1 to 5 Days
Staff Reviews
— Brenda McConnell, Kona Stories - Kailua Kona Hawaii
Description
Clark the Shark celebrates boisterous enthusiasm—and knowing when it's time for indoor voices! A great choice for circle time or for sharing one on one with your energetic little shark.
Clark is a shark with zing, bang, and BOOM. Clark zooms into school, crashes through the classroom, and is rowdy at recess. Clark loves life and always means well—but when his enthusiasm is too much for his friends, Clark's teacher, Mrs. Inkydink, helps him figure out a way to tone it down.
Clark the Shark is a great read-aloud picture book, with fun rhythm and rhyme, from the ever-popular Bruce Hale and Guy Francis. Kids love the energy and humor and ask for repeated readings. At the same time, they get the background message about how to work on impulse control.
About the Author
Bruce Hale has written and/or illustrated over sixty books for kids and is the author of Clark the Shark; Clark the Shark Dares to Share; the award-winning Chet Gecko Mysteries series; Snoring Beauty, one of Oprah's Recommended Reads for Kids; and the School for S.P.I.E.S. series. In his free time, Bruce enjoys hiking, watching movies, and making music. He lives in Santa Barbara, California, with his wife, dog, and many hats. You can catch him online at brucehale.com.
Guy Francis spends most of his time drawing, painting, and drawing some more. He has done a variety of illustration work in the children's market, including editorial and educational illustration, chapter books, and picture books. He freelances from his home in Provo, Utah, where his wife and four children are his own personal art critics and bring a healthy bit of chaos to the studio. Every now and then he gets out of the house and heads to the mountains with his family. You can visit him online at www.guyfrancis.com.
Praise for Clark the Shark
"Clark loves everything about his life at Theodore Roosterfish Elementary, but his supersize enthusiasm is hard for the other fish to handle The full-color artwork in a cartoon style is pleasant and fun." — School Library Journal